How to get your music on Shazam?
First of all, who doesn't know Shazam today? We have all, at some point in our lives, listened to music that is playing on TV or radio without knowing its name. Fortunately, Shazam is there for that. We press the central button of the application and like magic. The platform gives us the artist as well as the title of the song you have analyzed.
Online since 2008, the application was one of the first on the apple brand, that is Apple. Time goes by and in 2021, Shazam Entertainment Limited: it's more than 1 billion songs that are shazamed not per year, but per month. It has more than 200 million users, which makes it an essential platform for all artists. This platform is to be taken seriously for all artists looking for visibility.
How to use Shazam?
First of all, it must be said that the application is very easy to use. All you have to do is open the application, point your phone at the audio source and press the blue button in the middle of the screen. It has become so standard that the application has become a verb.
The app is constantly evolving. For example, since 2017, it is possible to shazam songs without even having a network connection. In fact, the application will record the music you are listening to and then once you find a connection, it will give you the name of the song.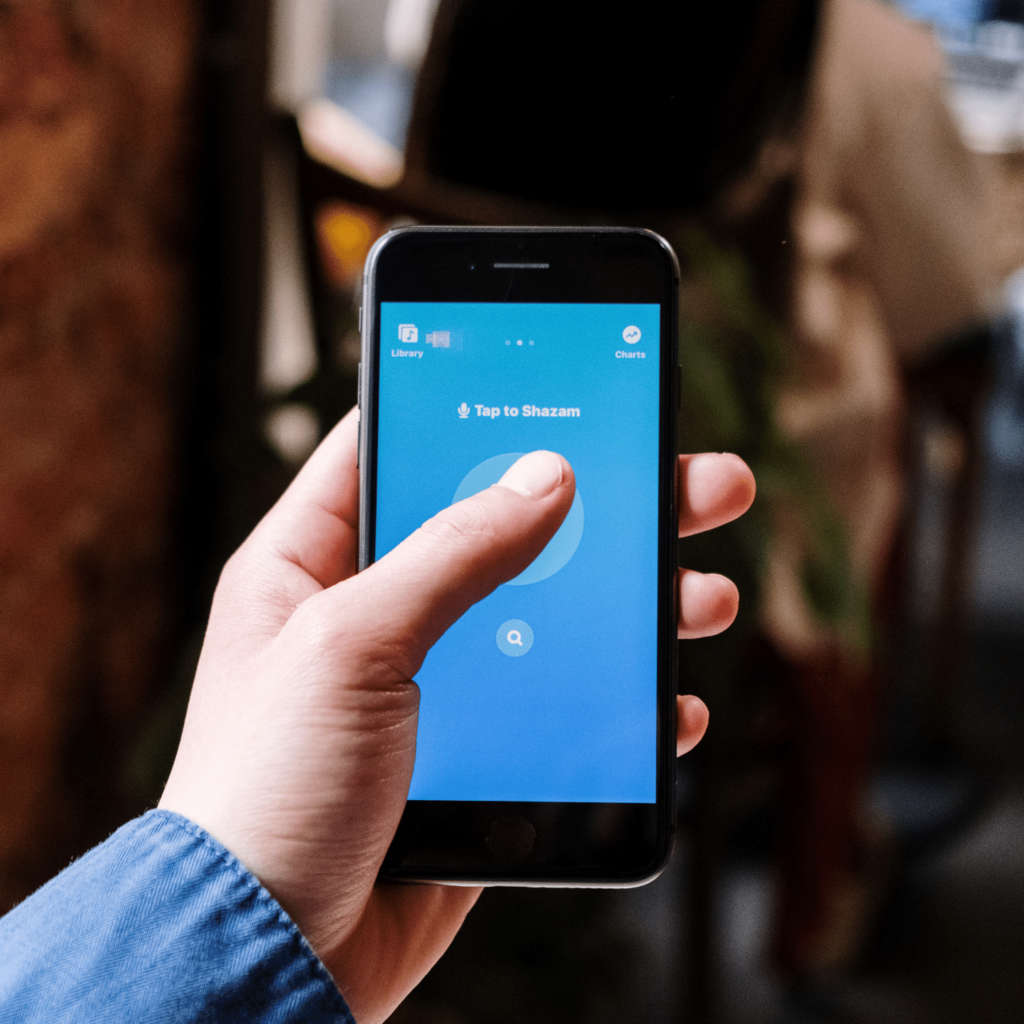 How does it work?
First of all, you have already asked yourself how such an application can work. How can a song be recognized in just a few seconds? It's simple, Shazam will transform everything it listens to into a code thanks to the audio that is being listened to. Then, it will compare the code with all the other codes in its database.
The only problem with this method is that you will not be able to recognize songs played live. Indeed, the song must be played in the same way as the studio version.
How to use it for artists?
Now that you have understood how Shazam works. You are probably wondering how to integrate it in your communication strategy. The major advantage is the possibility to link your Shazam account to an Apple Music or Spotify account.
Secondly, when a user shazams one of your songs, it is listed in the application's history. From then on, they can come back to it later if they wish.
Also, Shazam can have a direct impact on your streams. Indeed, a user can manually add one of your tracks that he has shazam in one of his playlists. This will create engagement, but also interactions that will only be beneficial to playlist curators.
How to put your music on Shazam?
As you read this article, you will have understood it. A song that is integrated in the Shazam database is very important to develop the notoriety of a song. To achieve this, you need to go through a digital distributor. Indeed, you can't just knock on Shazam's door and ask them to put one of your songs on the platform. You have to go through an intermediary, and Wiseband can offer to put your music on the Shazam platform right here.
Finally, once you've distributed your song on Shazam, you'll be able to access the statistics via Apple Music for Artists. Secondly, this could be interesting for your advertising campaigns on social networks. If you find that your song performs better in a specific geographic area, you can target that area in your campaign. It can even give you information on where it might be interesting to have a concert. In conclusion, this is a platform that no artist can do without to gain visibility.