YouTube: Official Artist Channel
A. Introduction for Youtube: Official Artist Channel
Have you ever noticed a music note next to the name of one of your favorite artists on YouTube? This icon means that the channel is a verified Official Artist Channel. It gives access to a range of analytic tools and offers ways to interact with your fans. It also makes it much easier for fans to discover your content when they search for you on YouTube. Once you are verified as an official artist, all your content will be brought together into one place: Your Official Artist Channel.
To apply for an Official Artist Channel, just follow our recommendations and make sure you meet the necessary requirements.
B. Recommendations and requirements
B.1 Copyright
You must hold the exclusive rights to the content you publish or have the consent of the rights holder in case of a cover version, remix, etc.
B.2 YouTube Community Guidelines
Before you apply for an official artist channel, make sure that your current YouTube channel complies with the community guidelines. Therefore, do not show items such as: cigarettes, drugs, alcohol, violence, sex, etc. in your profile picture or banner.
Your channel must not have received previous warnings for policy violations.
B.3 Take care of your profile
Consider providing the following elements:
Profile picture (at least 98 x 98 pixels)
Banner image (2048 x 1152 pixels)
Bio
Links to your social media channels and artist pages on streaming platforms (Spotify, Apple, Deezer…)
A welcome / trailer video for your Official Artist Channel

B.4 Requirements
Your current YouTube channel must necessarily contain:
At least three music videos to which you hold the rights (cover artwork with music in the background does not count as a video).
The tracks in the videos must be distributed on YouTube Music.
The three videos must be registered with Content ID.
C. Claim an Official Artist Channel
Just send your request to digital@wiseband.com & make sure to provide the following
A link to your YouTube channel
Links to the three videos
Links to the auto generated tracks (on the "Topic" and "Various Artists" channels)
Please note: We send the request for our catalog once a month. It can take a few weeks or even several months until it is processed.
YouTube reserves the right to accept or deny access to an "Official Artist Channel" even if you meet the requirements.
D. Benefits of verification
D.1 Referencing / Discoverability
The first point is crucial, it concerns the referencing, i.e. discoverability in search. When searching for your name on YouTube, you will appear at the top of the list (or almost at the top) and in the upper right hand corner. Thus, you will not only gain credibility but also increase your visibility – double bonus.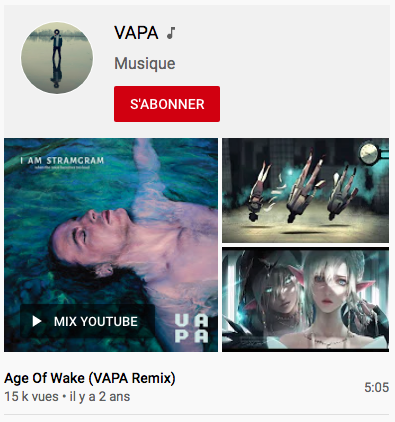 D.2 Youtube Analytics :
The Analytics for Official Artist Channels offer a wide range of interesting data that is continuously updated.

The dashboard is divided into five sections: Overview, Reach, Engagement, Audience and Revenue. Five relevant tools to get a wealth of information about your fans, understand them, and thus create targeted promotional campaigns.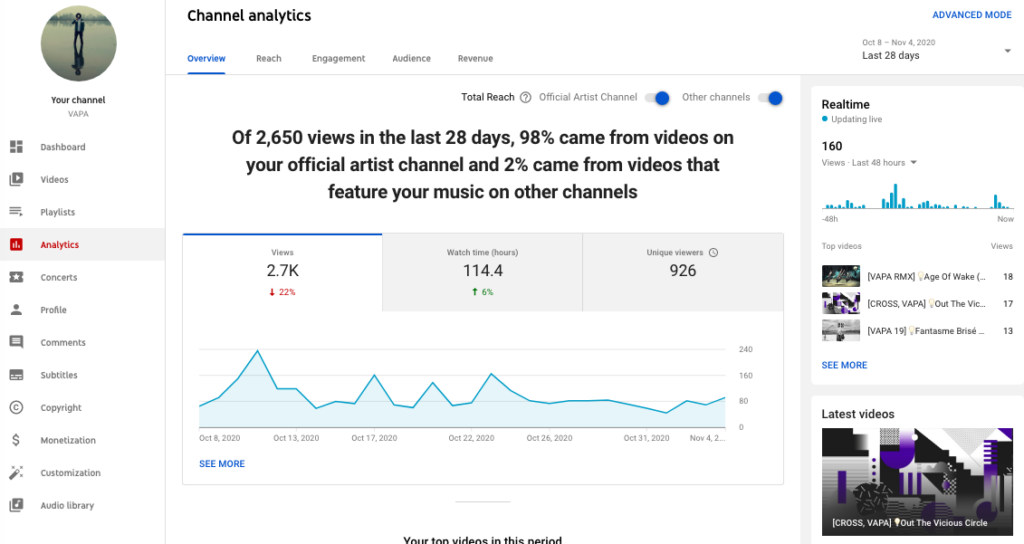 D.3 Promote your concerts on your YouTube channel
It is also possible to feature your upcoming concerts and set links to ticketers so that tickets can be purchased or reserved.
It works just like Spotify for Artists, you have to post your concerts on (one of) the following partner sites:
The link between your Official Artist Channel and your concerts listed on the different partner sites is automatically set. Please note that the ticketing feature is currently only available in the following countries or regions:
– Australia
– Canada
– Ireland
– New Zealand
– United Kingdom
– United States
D.4 Fan Engagement
YouTube also offers features for fan engagement. Just like on Facebook, you can post text messages, pictures, short videos, and even polls.
It is also possible to create and share your own playlists in the Playlists tab.