Spotify for Artists
1. Get access to Spotify for Artists
Wiseband gives you the keys to create an effective and meaningful Spotify profile and access your statistics.
Spotify is the world's largest streaming platform with over 130 million subscribers. Therefore, it is important to create an effective artist profile so that your fans can follow you. In addition, Spotify has powerful tools that allow you to access a large amount of data and statistics on your releases and your audience. We can help you create a meaningful profile and show you how to use Spotify for Artists to analyze your data and statistics.
2. Your music
The "Music" tab is intended to summarize all your releases:
by individual tracks under "Songs"
by the format of the release (i.e. EP, Single, Album) under "Releases"
by playlists (algorithmic, editorial, user-made playlists)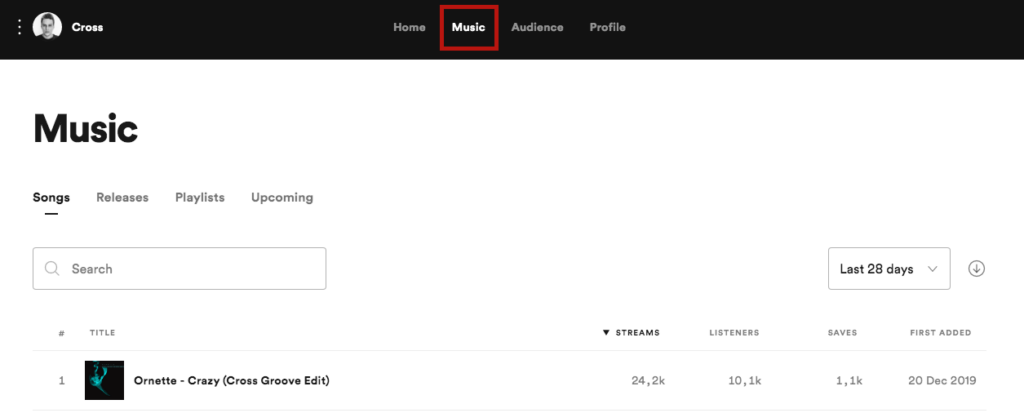 If you now click on individual songs, you can call up the statistics for each of them (number of streams, listeners, etc.).
Let's have a look at the "Upcoming" tab:


This is where you will find your upcoming releases. With Wiseband count about 48 to 72 hours after your distribution request for your upcomings to be listed here. And it is here where you can pitch a song to Spotify's editorial team for playlist consideration.
3. Your audience
With Spotify For Artists, you have access to valuable data on your listeners. We will show you the most important stats below. You will find all the data in the "Audience" tab.
A. Timeline
Spotify allows you to see the number of listeners, streams and followers in a given time frame (months, weeks, etc.).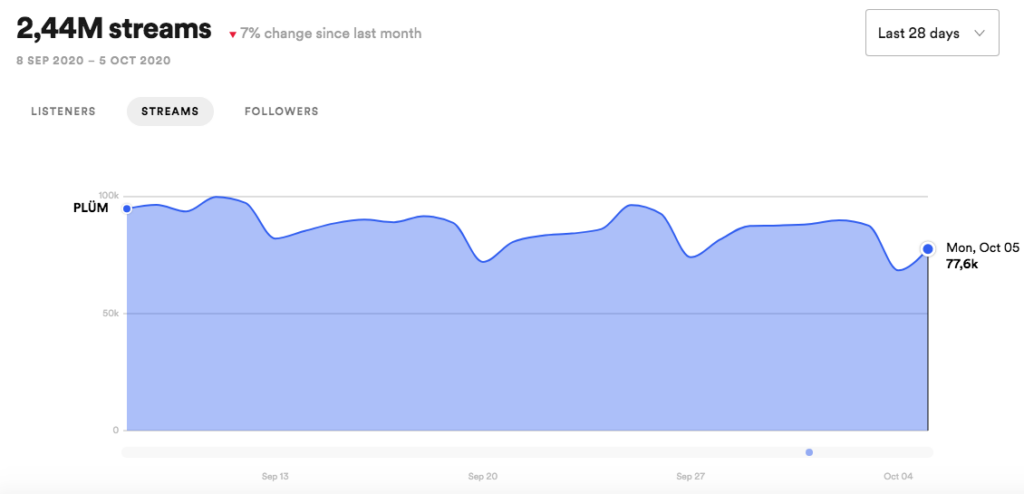 B. Source of streams
This feature is especially important because it helps you to understand how people are listening to your music, i.e.:
from your own profile
from personal playlists (in private)
from public playlists managed by third parties (branded playlists)
from editorial playlists (the Holy Grail – Part 1)
from algorithmic playlists (the Holy Grail – Part 2))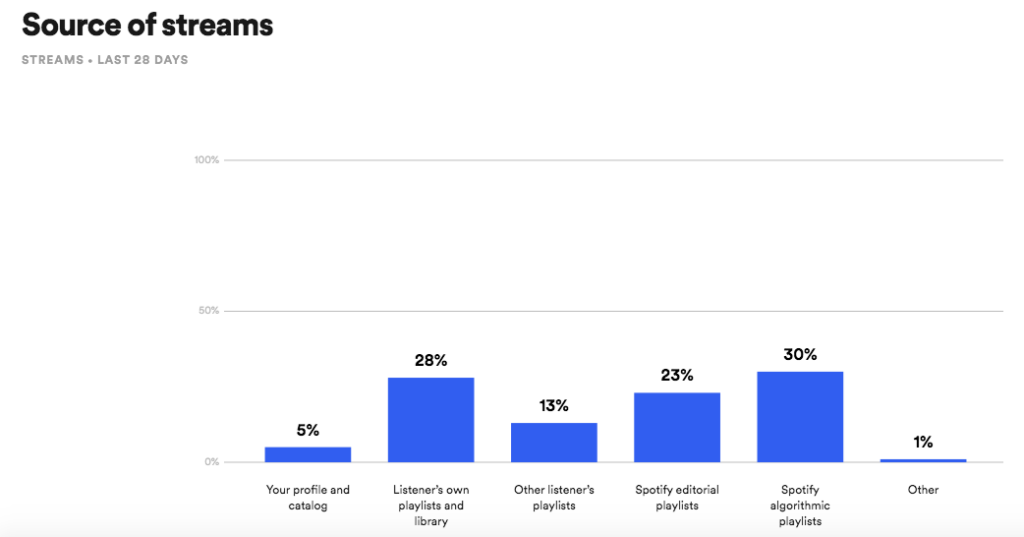 Why the Holy Grail?
Editorial playlists are the official playlists created by Spotify and followed by a very large number of users. They allow you to gain followers and take a prominent place in the Spotify algorithm.
And this is where the algorithmic playlists come into play, from the user's/consumer's point of view for example "Release Radar" or "Discover Weekly". These playlists are generated automatically based on the listener's tastes and habits.
C. Fans stats
This brings us to marketing. The data is very interesting and relevant for planning promotional campaigns either on Spotify itself or on other platforms. By the way: Wiseband can help you create your campaign; send an email to digital@wiseband.com.
The information on age and gender of your listeners will help you expand your position and gain deeper insights into your audience.

D. Where are your fans?
Furthermore, it is possible to see where your listeners are located around the world. You can figure out in which countries/cities your music is being streamed the most. This is a very useful tool, it will help you plan your next tours and concerts and convince promoters to book you. Spotify has many more tools for you to discover.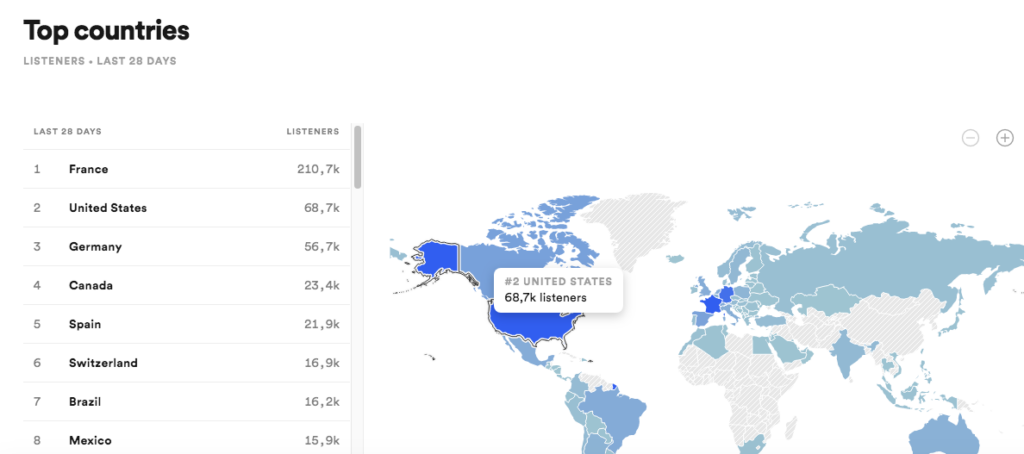 4. Your artist profile
4.1 The "Overview" section of your profile
A. Your profile image: avatar
The profile image is crucial. It is an important means to express your identity as an artist. As it serves as your brand, it must be the same in all your media, including social networks.
Spotify's profile image requirements and recommendations are as follows:
Dimensions: at least 750px x 750px
Avoid logos
Choose a high quality photo with a background that stands out from the face of the artist/band.
B. Header/banner image
The header or banner image is the image that will highlight your news. Be sure to update it as soon as you have a new release or clip.
Dimensions: at least 2660px x 1140px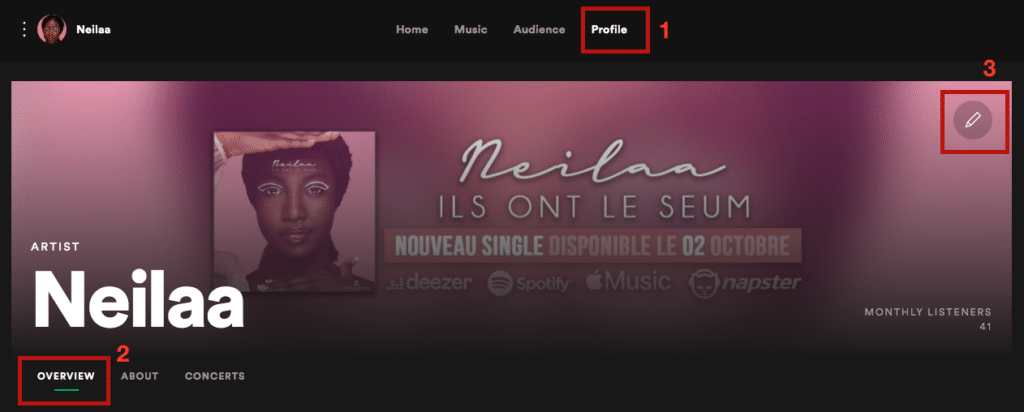 C. The "Artist's pick":
Still in the "Overview" section, you can use the "Artist's pick" feature to highlight a reference; it can be your latest release, a playlist you are on, or a specific event…
You can also add a short message of 10 characters. The "Artist's pick" will remain for 14 days, you can change it any time you want.

D. Playlists :
You can also add playlists that inspire you to your artist page. Ok… and what's the interest in this?
Well, at first the interest is to be able to create your own playlist(s) with a user profile, a playlist that reflects what you as an artist do. Once created, simply search for the playlist name in the appropriate field in "Spotify for Artists". This feature not only allows you to create content, but also to get potential editors of official playlists to put you in the right place. Choose two or three editorial playlists that match your latest release.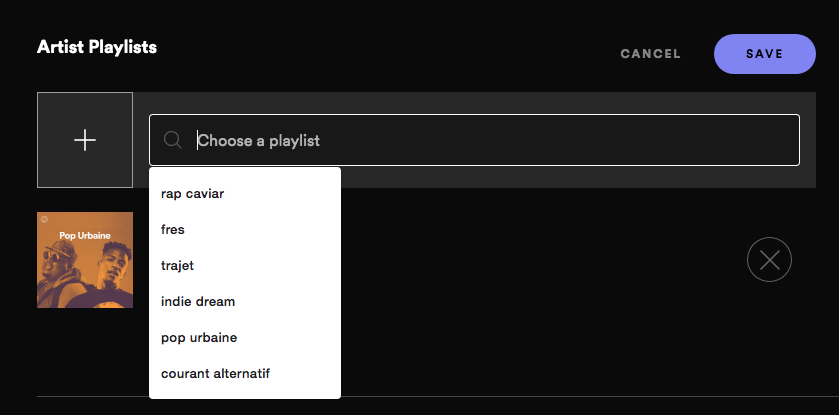 4.2 The "About" section of your profile
E. Image Gallery:
You can upload additional (press) photos to complete your profile and allow your fans to get a deeper glimpse into your world.
Our recommendations :
Put a single representative photo of your project; it will be displayed in large format on top of your bio.
Or
Add two or three images showing different facets of your work.

F. Your bio
From now on you can complete or modify your bio anytime you want. A new feature on Spotify allows you to link to inspiring artists, collaborations, songs, albums and even playlists, just use the "@" symbol and enter "@artist name/song/album/playlist".
The biography is essential for the design of your project and for your success. Don't hesitate to update it every time a new release is coming up.

G. Connect your social media channels
Spotify enables you to add links to the following platforms:
Facebook
Twitter
Instagram
Wikipedia
2.3 The "Concerts" section of your profile
H. Concerts
It is possible to show your fans that you are on tour and to refer to your concert dates or virtual events. To do this, you need to synchronize Songkick with your Spotify account.