How to integrate an official Amazon Music playlist?
Although Amazon Music is not the first music streaming service, the platform has developed at a lightning speed and already has a good fleet of official playlists as well as a substantial premium subscriber base. It now offers via its dedicated artist portal a new tool that will allow you to do two fundamental things:
Pitch your tracks and submit them to Amazon Music's editorial team for inclusion in the official playlist.
Alert your subscribers via a notification that you just released a new song.
So you must have access to Amazon Music for Artists to benefit from this tool and thus pitch your next single. If you don't, you can read our article on Amazon Music for Artists here.
Where do I start to get into an Amazon Music playlist?
Once logged in to your Amazon Music account, a new "Latest News" tab is displayed at the bottom of the menu.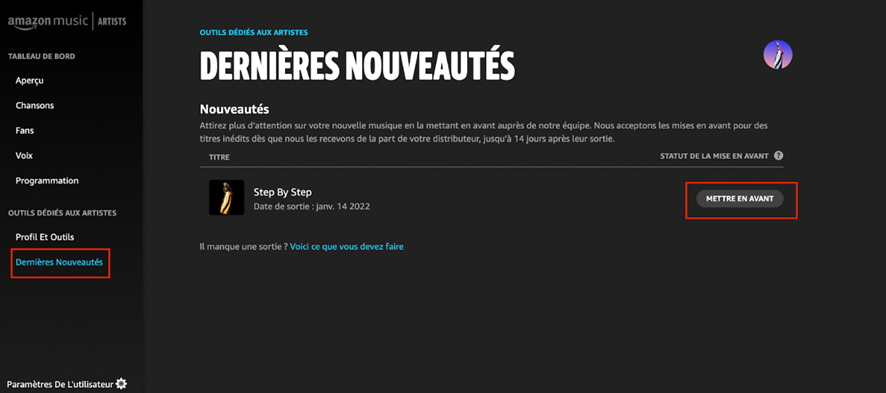 *Promotion is possible up to 14 days after the release only to notify your subscribers. For an official playlist submission, please do it several weeks before the release date (we recommend 1 to 2 weeks).
Describe your song for Amazon Music playlists:
Make a short description of your song of 1000 characters maximum. Put the mood of the track, what you think about when you listen to this music. Don't forget to add your good news!
Select up to 3 musical genres maximum to describe your music, think carefully before choosing the musical style, it is crucial.
You will then be asked to choose the version of your track (Original, Remix, Live or Cover) and if your track contains lyrics or not.
Add additional information for Amazon Music playlists:
Additional information will be asked, they are not mandatory, but they can distinguish you from other artists. They concern your influences, your fanbase, the spirit of the track as well as the atmosphere (the mood).