Amazon Music For Artists
Amazon Music has become one of the most important streaming platforms in a very short period of time. In fact, it already has a market share of around 15 % and a very high conversion rate to paid subscriptions due to the wide range of products and services offered by the company. Thus, the streaming service has the potential to make Spotify and Apple Music blush in the long run.
The platform has very quickly developed services for professionals in the music business, starting with "Amazon Music for Artists", an app that allows you to take control of your artist profile page and access a number of insightful data.
1.  Claim an artist    
First, you need to create an Amazon account in order to go through the artist claim flow. We recommend using your band's email address or professional address to avoid any mix-up with your personal Amazon account.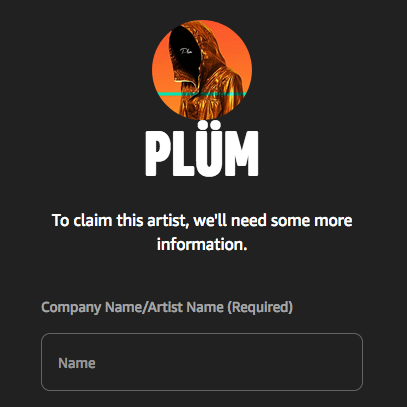 Search for your artist page and enter the artist name or your full real name.

Select your role (artists, labels and managers can get different account access for one and the same artist).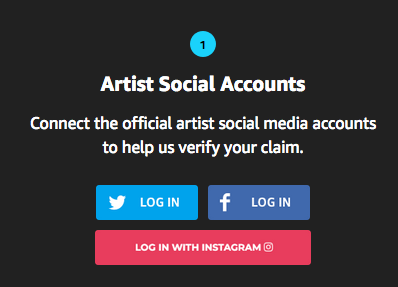 Connect your artist's social media channels (to prove that you are the administrator of the different pages).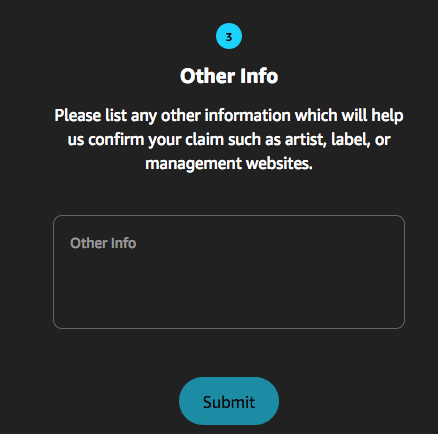 Add further relevant information, such as:

Names of releases (singles, EPs, albums) Corresponding UPC barcodes
Corresponding ISRC codes
Release dates
Name of distributor
Artist's or label's website
Your professional email address
Please note: Amazon's processing time is quite long; it will take at least 1 to 2 months before having an answer.
Download the mobile app: IOS, Android
2.  Stats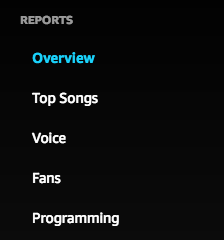 The stats provided within the Amazon Music for Artists app are particularly detailed; they are divided into five sections
Overview: Displays general data on the number of streams and listeners worldwide.
Top Songs: You will find the same figures as in the "Overview" section, but broken down by individual songs.
Voice: Very interesting feature; it is the number of requests for an artist's music using "Alexa", Amazon's voice interface.
Fans: This section allows you to better understand your audience, to know who is listening to you, according to gender, age, and location. You can also find your "Top Fans". 
Programming: Here you get to know the playlists the artist is featured on (editorial as well as third-party playlists).
3.  Customize your artist page
You can customize your artist page in order to make your profile consistent across platforms and thus recognizable.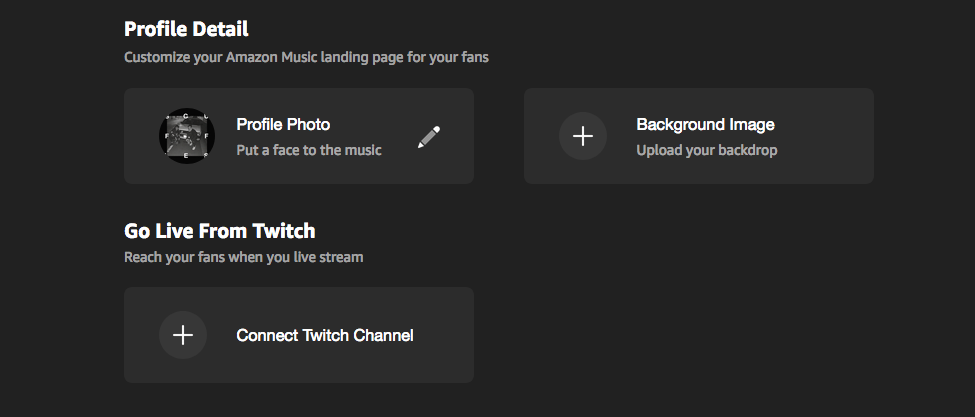 File Photo dimensions: at least 750px x 750px Format: jpeg or png
Size: 5MB maximum

Background Image dimensions:
at least 1920px x 1440px
Format: jpeg or png
Size: 10 MB maximum
 Connect (your) Twitch channel for live streams:
It allows you to send notifications to your fans on Amazon Music when you go live on Twitch. Once your Twitch channel is connected, fans can watch live streams directly from the Amazon Music app.
4.  Management Settings:
It is possible to invite new users as team members to manage the account and/or access the artist's stats.

You can select the role of new users (artist, manager, label) and set the level of account access (is he/she an admin or a simple "viewer").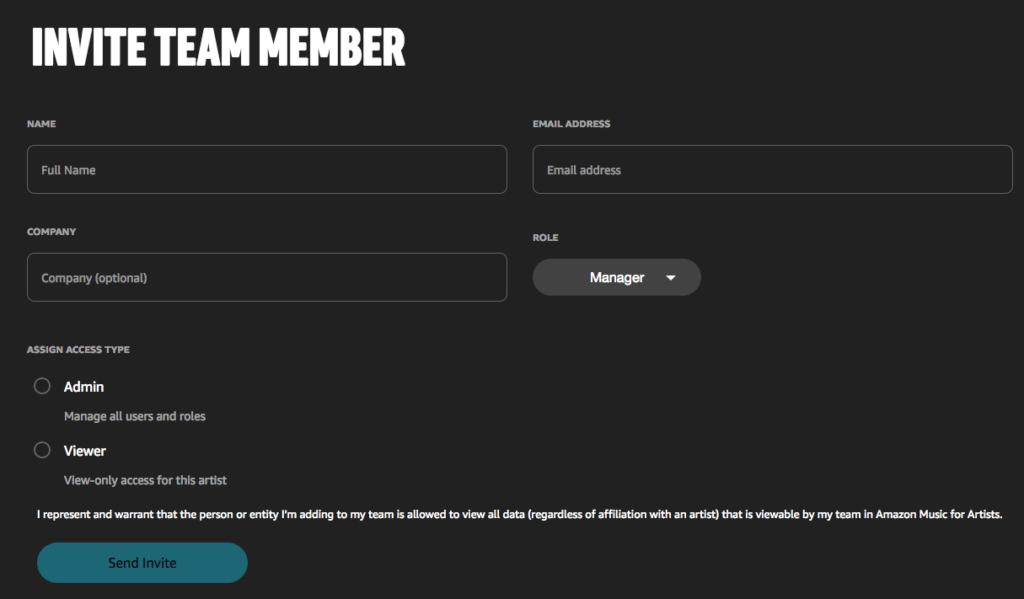 5.  Pitch your songs
You can pitch your songs to try to get them on editorial playlists by sending an email to music-submissions@amazon.com. You need to provide the following information: 
Artist name
Track title
UPC barcode 
Release date
Listening link (private SoundCloud link)
Label name (if any)
Name of distributor (Wiseband)
Be sure to do this at least 1 to 2 weeks before your release date.
Please note: Wiseband works closely with Amazon Music to get your music added to editorial playlists.
You get it, Amazon Music For Artists is similar to Spotify For Artists, Apple Music for Artists or Deezer Backstage. So it's important for you to use it 😉